Film support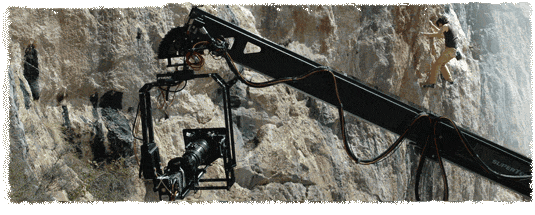 La Sargantana offers specialised services in the field of cinema, advertising, and television production, providing a wide range of technical support services for filming challenging scenes. Our job is to solve problems that can arise, for example, when filming at heights, when shooting high-risk and technically complex scenes requiring the use of ropes or other safety equipment, or when there is a need to transport people or equipment to locations that are difficult to reach.
We are specialists in outdoor activities, and our services are focused on providing support for outdoor filming, everything from managing film crews to providing logistical support for equipment. Although our home base is in Montserrat, we offer our services throughout all of Catalonia.
• We are highly specialised
• We work vertically
• We are specialists in mountaineering techniques
• We scout for unique locations
• We offer permit management services
• We formulate solutions for challenging scenes
• We provide support services for film crews
• We ensure safety in high-risk situations
• We provide ongoing production support
Works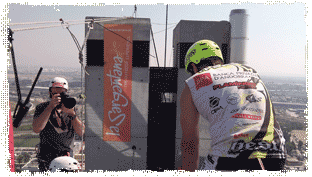 Guinness World Record by balancing on bike for four hours without touching the ground on the dome on top of the Hesperia Tower Hotel in Barcelona.
Preparation and implementation of the safety system to the performance of the activity adapted to the existing structure of the building.
Support forphotographer and journalists from radio and television media in live connections during the trail.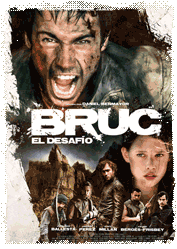 Producer:


Design and development of a zip-line transport system for all technical filming equipment, props and lighting in an inaccessible filming location (Salnitre Caves, Collbató).
Mounting of a 50 kilo CIRI at the peak of the main vault of the cave to simulate the entry of natural daylight.
Securing the actors in difficult-to-access exterior locations.
Location of different filming areas.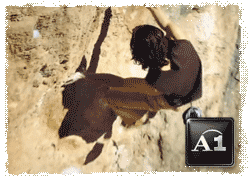 Producer:


Preparing and adapting facilities to ensure the utmost safety and comfort of the actors during filming with an individual safety system concealed from the cameras.
Creation and provision of spaces and access routes for cameras.
Taking on the roles of extras during rehearsals to ensure optimal sequences and shots.
Location of different filming areas.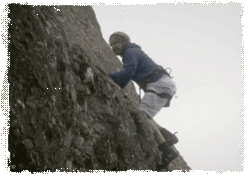 Producer:


Creation and provision of spaces and access routes for cameras.
Handling of permits with the Patronat de la Muntanya de Montserrat (Montserrat Mountain Trust).
Organisation and provision of catering and bivouac material logistics
Location of different filming areas.